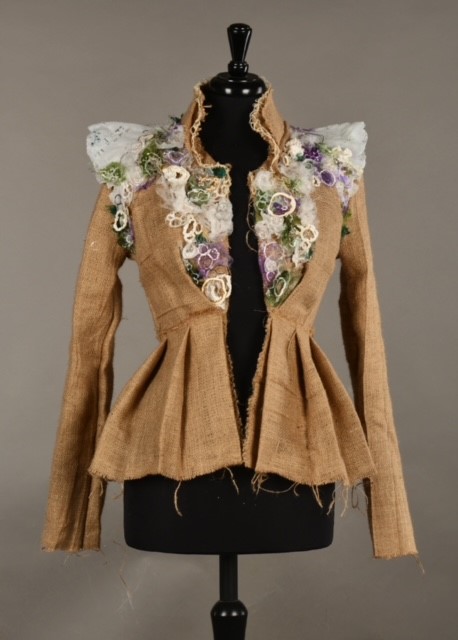 AN artistic King's Ely student has been crowned a winner in a national fashion design competition.
Eleanor (Nell) Kittoe, who is in Year 11 at King's Ely Senior, was awarded first place in the 'Eveningwear Teenage' category of the 2023 Stitch Festival Dressmaking Competition, with her exquisite jacket, pictured.
Nell was one of nine GCSE and A Level Fashion and Textile Design students at King's Ely to have their creations shortlisted in this category. Garments made by Nell, Rosa Snell, Kevin Meng, Phiona Loi, Kiki Tang, Disa Hellyer, Chloe Skoulding, Alexa Milne, and Sayuri Okunushi, all featured in the finalists' catwalk at the Stitch Festival, which was held at London's Business Design Centre. All shortlisted pieces were modelled on the catwalk by the students who made them or by their friends, before judges announced Nell's garment as the winner.
Nell, who joined King's Ely Junior in Year 5, said: "I am so happy to have won! I felt proud to wear something that I had designed and created on the catwalk, although it was quite nerve-racking too. I was nervous about damaging the piece but thankfully it was fine!"
Thousands of crafts lovers attended the Stitch Festival, which took place from March 23rd-26th. King's Ely was proud to have two stands at the event. In 2022, John-Oswald Crichton, who was in Year 13 at King's Ely at the time, won the same category as Nell. John-Oswald is now studying Fashion Design Innovation at the University of Leeds.
Nell's jacket is mainly made of hessian potato sacks, and the design is inspired by oyster shells and seaweeds which caught her attention on a holiday to Île de Ré in France. Each student had to write a paragraph of information about the garment they had produced, including the use of both creative and technical processes, and they had to provide photographs documenting their pieces.
The Stitch Festival Dressmaking Competition featured six categories this year, including a new menswear category. Entrants were encouraged to be as innovative as possible and judges were looking for personal flair, as well as beautifully executed techniques, stitching and finish.
This year's judging panel included David Morrish of Kingfly Embroidery, hand knit designer, Jeanette Sloan, Josie Hawes – founder of Fabric Godmother, and Elisalex de Castro Peake, co-founder of By Hand London.
King's Ely is renowned for its holistic approach to education, and this is reflected in the school's outstanding Visual and Performing Arts provision. Music, Drama and Theatre, Fine Art, Fashion and Textiles, Photography and Dance are each embedded in the culture of King's Ely, with vast opportunities for pupils of all abilities and aspirations.