The idea for this blog arose from a debate about the National Anthem. Last Saturday evening, as the sun faded over the Irish Sea, Joey argued the case for 'Jerusalem'. I have to admit that I have always been a little perplexed by those references to 'dark Satanic Mills' and 'arrows of burning desire'. Indeed, Blake's words would not count for so much without Parry's stirringly majestic tune. I lobbied hard for 'Land of Hope and Glory' before Gemma took us all by surprise by interjecting with the immortal line, 'perhaps something by Westlife'. Given the Irish dimension, Fiona thought that this was a terrifically good idea and before we knew it, 'Flying without Wings' was being touted as the perfect anthem to raise the nation's spirits in these troubled times. It is difficult not to relish the spectacle of this song being wheeled out at state functions. There is almost no context within which it would not be amusing.
I would not pretend to know a huge amount about boy bands though the thought of being paid to sing or lip-sync songs did not seem entirely unattractive. Alas, I never made it beyond the stage of being a backing singer for a well-known legend of the Irish Country music scene but that is a story for another day. That earned me little more than the approval of my mother-in-law!
I lived in quite a rough part of Dublin in the years immediately following the signing of the Good Friday Peace Agreement. Bizarrely, Continuity IRA slogans would vie for space with messages of adoration for Boyzone and Westlife. The walls were adorned with graffiti that ranged from paramilitary terrorism to teenage heartthrobs. I tried to ignore the 'Brits Out' comment daubed in white paint under the railway arch at the end of our street, but there was no hiding from the mania that seemed to have gripped the city's cultural sensibilities. Perhaps this was the closest thing to Beetlemania imaginable for someone born in the late seventies.
Shane, Mark, Kian and Nicky were up for the craic and living the dream. They made millions of euros pedalling endlessly schmaltzy ballads. Their fans were loyal and dismayed when poor old Shane had to declare bankruptcy after speculating on the property boom that fed the Celtic Tiger economy.
The vast majority of Westlife's songs were written by a team of professional songwriters based in a sound studio in Scandinavia. Prosaic but effective, these songs served a purpose much akin to fast food. It pushes buttons rather than lighting fires. In all honesty, the Westlife lads were not the most energetic of performers – there was certainly no breakdancing or anything at all exuberant. Almost always static, they would occasionally rise from their stools in unison and take four steps forward and then four steps back and that was as good as it got. This additional excitement would usually herald a change of key. It was a winning if somewhat anodyne formula and they were likeable enough. In keeping with so many bands of the 90s, such as Steps and S Club 7, they owed much of their success to class acts like the Bee Gees and ABBA. Of course, one should not underestimate the cynical opportunism of their commercial directors who more often than not exploited their hapless and naive charges. Westlife and Boyzone were the natural successors to the showbands of the sixties and seventies who had toured the Irish countryside performing covers of Johnny Cash and the like.
In reality, most of these nineties bands lacked any sense of 'self'. They were over-commercialised and over-produced to the point of blandness. As the bands fell out of favour, their members were reduced to making appearances on reality television series such as Coach Trip or Celebrity Big Brother. I seem to remember that poor Abz from Five tried to run a farm in rural Wales whilst the boys from Blue took over a bar in Malaga. Such ignominy would never have befallen Agnetha, Anni-Frid, Bjorn or Benny. They were the real deal and their songs have endured. I imagine that they have spent much of the last forty years living on densely forested Swedish islands, in an IKEA wonderland of fresh colours and sharp angles.
Many years ago, I was the accompanist for a recital in Dublin that consisted almost entirely of German lieder and early twentieth-century art songs. It was a rather earnest affair, or it would have been had the soloist not insisted upon including a selection of ABBA songs. We majored on 'The Winner Takes it All' and the enduring perfection of the song, with its vaulting melancholic melody ensured that it easily held its own beautifully alongside songs by Schumann and Vaughan-Williams. My friend (the soloist) has since gone on to sing for the Pope in the Choir of the Sistine Chapel (the first Englishman to do so since the time of the Reformation) whilst my musical career quickly faded away to nothing.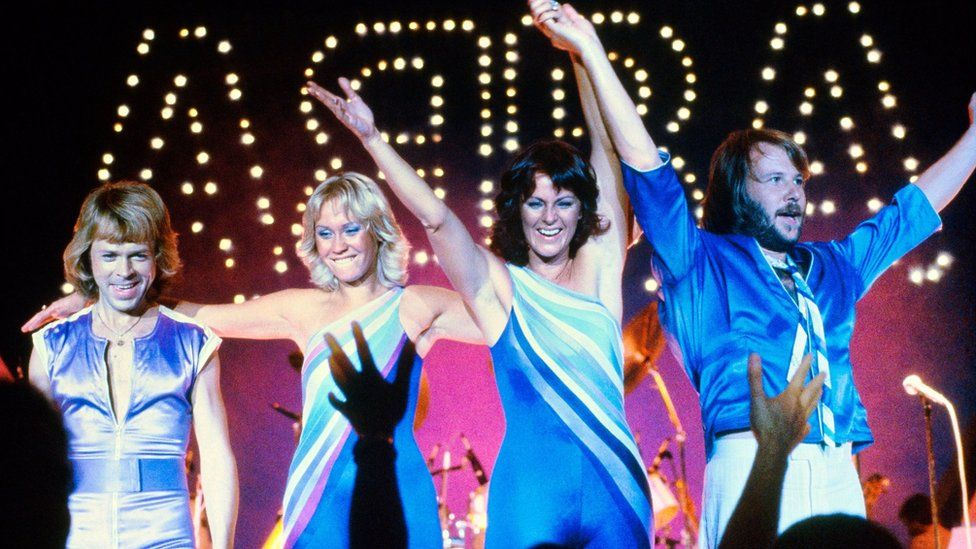 The exquisite simplicity and formal beauty of so many of ABBA's songs are testimony to the quality of songwriting that exudes creative genius and technical brilliance. Yes, I am quite the fan! That special alchemy that existed when ABBA took to the stage is due to the fact that we knew that they were authentically themselves. The pathos and drama of their marital breakups bleeds into their later ballads. Nostalgic lyricism gives voice to a sadness that was real, relatable and tangible. They resisted the temptation to lose themselves in self-indulgent navel-gazing or musical gimmickry. There is an exquisite economy to their writing. Deconstruct any ABBA song from an analytical perspective and it is easy to understand the role played by each constituent part. Classical ABBA tropes might look like painting by numbers but there is so much more to their songs than this. The harmonic language is straightforward and the melodies are so simple that it is difficult to comprehend how they could possibly sound so original. Their recent comeback album suggests that the essence of their musical soul remains remarkably undiminished through more than forty years apart.
Jude Rogers, writing in the Guardian, portentously reflects upon the 'oceans of meaning' contained in these new songs which so often 'crackle with the uncomfortable edges of their biography'. Their ability to transform saccharine ballads and disco bangers into profound statements sets them apart and explains their enduring popularity. They are back in the game and back on form – undiminished by age but enriched by experience..
As a School, we have been through tremendously challenging times and yet we have the best academic results in a generation and the student roll is higher than at any time in the School's a hundred and seventy six-year history.
The excitement we feel as we return for what promises to be an action-packed year is difficult to put into words. I think that there is a sense of relief and gratitude. We have all had those moments when we really cannot believe that our lives are beginning to return to normal. For me, standing outside the pavilion on Friday afternoon with our incoming Year 7 families felt incredibly joyful. This is because there were times when we feared losing what had always seemed so commonplace and so fundamental to our humanity. Nevertheless, our desire to be together as a community only ever intensified during the difficult months of lockdown. There is no doubt that these last eighteen months have changed us all. Much like Agnetha's voice, I feel a little more 'lived-in' but the experience of leading this community through what amounted to a very real crisis has taught me so much more about love and human nature. There have been moments of sadness but also of great tenderness, humour and compassion. The successes that we have enjoyed seem all the sweeter for the incredibly difficult context within which they were achieved.
Schools often measure their success in statistics or impressive headlines. People often ask me how on earth we have become so successful and I struggle to answer convincingly. Much like an ABBA song, I could deconstruct the various elements and highlight the role that each element plays in our ultimate success but that would tell you very little – it would be a bit like taking a cat apart to see how it works. The truth is that everything we do is done with absolute sincerity and real conviction. The ambition that drives us forward arises from a belief in the value of education and our moral responsibility to provide the very best start possible in life for all of our children. Matt Turner said to me the other day that for him it is about constantly striving to create the School of his dreams, the School that he wishes that he had attended. Everyone should want to invest in a community-driven by individuals who possess such a clear sense of purpose.
When you believe in what you do with every fibre of your being then it creates a sense of forward momentum that is as unstoppable as it is authentic. I am inspired by our children, our parents and our wonderful staff – they exemplify the spirit of this place so perfectly. Much like the spirit of ABBA, the essence of Rossall will always endure. No slick marketeer will ever do justice to the true nature of our being. Rossallians understand that only too well and I hope that those of you who are new to this community will feel the welcoming warmth of this most friendly of places.
Have a wonderful weekend and as we contemplate the beginning of this new year, I leave the last word to Benny Andersson:
It is inconceivable to be where we are…no imagination could dream that up!
That is precisely how I feel right now…Floreat Rossallia!
Mr Jeremy Quartermain
Headmaster of Rossall School