It goes without saying that competition for Oxbridge places is fierce. The universities receive, on average, between five and seven applications for every place available. To make matters more challenging, according to their 2019 admissions reports, around 69 per cent of Oxbridge's UK offers go to students from the state sector; and this year was no exception. The same is true for Cambridge give or take a few per cent.
Winning against the odds and proving that girls can thrive in a supportive co-educational setting, enter (stage left) Isabel, Isobel, Katherine, Natasha, Sandra, and Tianlu, six girls who just received the equivalent of Mr Wonka's Golden Ticket, an offer to study at one of these prestigious higher education establishments. What stands out about this group of girls, apart from the fact that they have blossomed in a mixed educational setting, is the sheer breadth of subject areas in the places offered.
Local Eastbournian Isabel enrolled into the sixth form at Eastbourne College after many happy years at local state-maintained school Cavendish. She studies A-levels in Biology, Chemistry, Further Mathematics, Physics, and Extended Project Qualification (EPQ), and supplements her STEM focus by being a member of the College's large Pre-Medicine School. Isabel applied for the Professor Soddy Award (a 100% funded place for particularly talented pupils from state education) and was successful.
'The highly tailored timetable has really helped me focus on my core subjects, and my love of maths was a huge factor in applying to Cambridge to study Medicine. I still can't believe I got a place and I'd like to say a massive thank you to all the staff who helped me along the way.' Isabel will join Trinity College Cambridge this year.
Classmate Isobel, from Bexhill, is also a fellow Professor Soddy Award holder and studies Biology, Chemistry, Further Mathematics, and EPQ. Another STEM girl, Isabel found her spark in the sciences.
'Eastbourne College isn't like a 'usual' college. There is a lot of structure and the teachers give the right amount of 'push' to help achieve and exceed your goals.'
Isobel will take up her place at Homerton College Cambridge to read Natural Sciences and likes the idea of going into laboratory research.
Like most pupils with aspirations to study at either Oxbridge or other universities in the UK and US, engaging in the creative arts often provides a natural diversion from the rigours of academic preparation; pupil wellbeing is not a separate initiative bolted onto the core curriculum, but an inclusion policy woven into the fabric of the day-to-day.
Cello playing music scholar Katherine regularly performs at the many concerts the College puts on each term and has made use of the raft of remote creative arts opportunities during lockdown to continue wowing the school community. Being fluent in English and Russian, as well as having studied French and Mandarin, she has always been passionate about languages. For Katherine, A-levels and activities at Eastbourne College include French, Greek, History, Instrumental Music, and Latin. She was over the moon with her Oxbridge offer,
'I received the offer while in a lesson and wanted to jump up and down with excitement. In the future I really want to use languages for a good cause, such as being a diplomat in the Middle East; this could really make that happen!'
Katherine will join Pembroke College Oxford to read Arabic and Islamic Studies.
Natasha came from St Andrew's Prep (another school in the Eastbourne College Inc charity) and has been at the College since Year 9. She was awarded a drama and then an academic scholarship as her talents emerged. She chose Classical Civilisation, English Literature, History, and Philosophy & Theology for A-level. Outside of subscribing to the many performing arts opportunities on offer at her school, Natasha contributes to the local community in myriad ways. Her most recent endeavour saw her partner up with a fellow pupil to produce a video bid for transforming Eastbourne's Jubilee Way, presenting it to local government, and, among others, Sir Tim Smit, founder of the world-famous Eden Project. She has been offered a place at Queens' College Cambridge.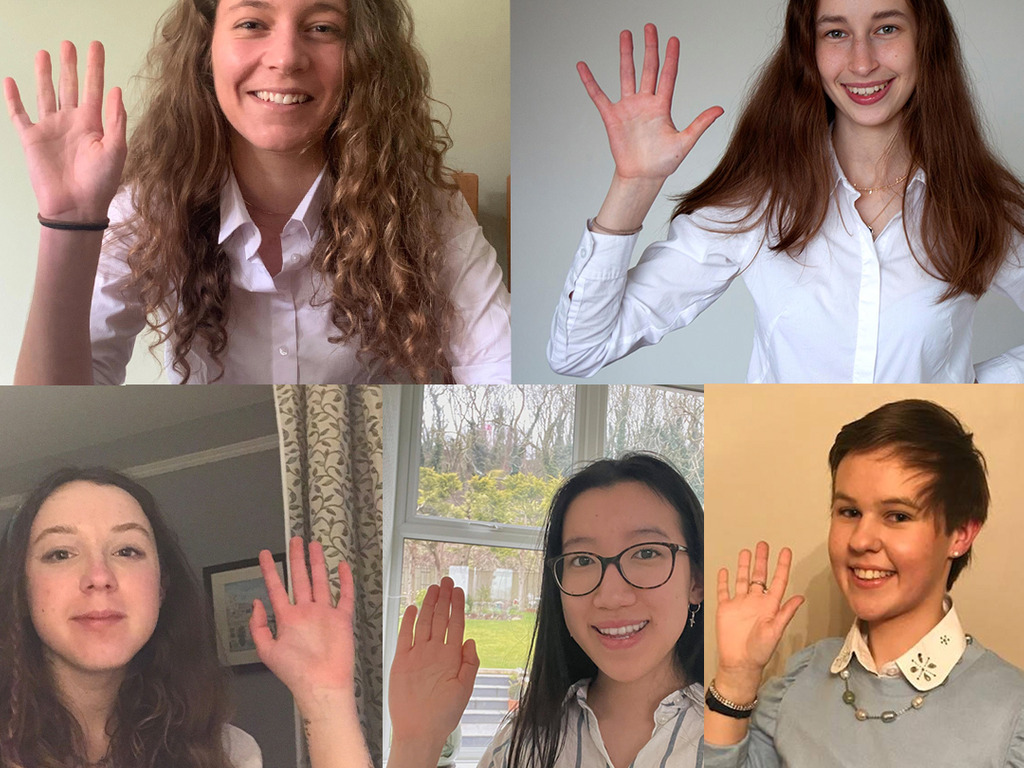 'I am so excited at the prospect of studying Anglo Saxon Norse and Celtic at Cambridge. I've always been interested in the Early Middle Ages; it is such a culturally-rich period and the Cambridge course uniquely offer options for the interdisciplinary study of literature, history and language. I am particularly fascinated by the way people tell stories to make sense of the world and our place in it. I do not yet know what I will do post university, but avenues such as heritage, conservation and archaeology really interest me. Thank you so much to all my teachers for helping me get this far!'
Oxbridge entrant Sandra hails from Germany and came to Eastbourne one a one-year placement to study at another school in the Eastbourne Schools Partnership (ESP). She enjoyed it so much she stayed on. What started as a twelve-month UK education experience, led to an offer to join Eastbourne College's sixth form and an offer from Cambridge to study French and Spanish where she will be based at Pembroke College. Sandra continues to enjoy the independence that Eastbourne College's collegiate-style boarding system provides and speaks highly of the school's Oxbridge preparation programme.
'I had been a student at a German state school for nine years. Then I attended a maintained school in Eastbourne for a year abroad to do my GCSEs, which I completed in one year [instead of two]. I only thought I might be away from Germany for one year but after being introduced to Eastbourne College through the ESP I realised what a fantastic opportunity I had in front of me through an amazing boarding experience and smaller class sizes.
To come to England at the age of fifteen was my best decision so far. I have used every opportunity offered to broaden my horizons. I have been passionate about languages since a young age and living abroad strengthened that. After participating in the extra Saturday sessions, this reinforced my love for languages and literature and through the Oxbridge preparation programme the College provides, I decided to go for it. I am delighted to go to Cambridge to study a course that covers both language and literature. In the future I would like to be a Foreign Correspondent to the BBC or teach to help other students.'
Tianlu is one of the top 0.1 per cent of pupils in the UK who achieved a clean sweep of 9s and A*s at GCSE. Having aced no less than 13 subjects, this academic and music scholar went on to study Economics, Further Mathematics, History, and EPQ. Tianlu continues to thrive, embracing the endless horizons and endless opportunities available to her six days a week. As a day girl, she has everything the boarders do save for the bed, and takes advantage of the optional, guided Saturday morning enrichment sessions which include a full programme of academic, creative, and co-curricular pursuits. Tianlu's sisters both went to Cambridge and she had similar ambitions.
'I am delighted to have received an offer from Cambridge, and I am eager to extend my studies in Economics, especially at such a prestigious university. The admissions process was incredibly gruelling, but undoubtedly worth it for this positive result.'
Tianlu will be based at Murray Edwards College later this year.
As an advocate of mixed education 'with the vigour of a convert', Eastbourne College's headmaster, Tom Lawson, sees the girls' success as a by-product of delivering a gold-standard education that moves with the times.
'These six women of the future are role models for pupils at Eastbourne College, demonstrating what can be achieved by accessing the inclusive, balanced and ambitious education provided here. I am proud that we, yet again, have proven that happy, healthy co-education is a brilliant environment for girls to achieve at the highest possible level in STEM subjects as well as across a wide range of humanities.'
Contacts
Gemma Crowhurst (Director of Marketing and Admissions) – GLCrowhurst@eastbourne-college.co.uk 01323 452253
Adrian Ashby (Marketing Communications and PR Manager) – AMBAshby@eastbourne-college.co.uk 01323 451910
Social Media
Facebook – www.facebook.com/EastbourneCollege
Twitter – www.twitter.com/EBCollegeLife
LinkedIn – https://www.linkedin.com/company/eastbourne-college
Instagram – https://www.instagram.com/eastbournecollege_official/