But that's exactly what a group of King's Ely Senior students were able to do with Jeremy Irvine just before half term, thanks to a fantastic opportunity organised by the school's Drama Department.
More than thirty students and staff members enjoyed an online Q&A session with Jeremy, who made his film debut in War Horse in 2011. Jeremy was nominated for 'Best Male Newcomer' in the Empire Awards and the London Film Critics' Choice Award.
Since then, he has starred in a whole host of Hollywood films such as The Woman in Black sequel, Great Expectations directed by Mike Newell, The Railway Man with Colin Firth, The Bad Education Movie, the remake of Billionaire Boys Club, Mamma Mia 2, and he was seen as the lead in the Amazon Prime series Treadstone, a prequel to the Jason Bourne collective.
Nick Huntington, Director of Drama and Theatre at King's Ely, said: "Jeremy has already had a very exciting career and he is just 30 years old. Jeremy – a Cambridgeshire born actor – was able to go from relative obscurity to a Hollywood star, and how he got Steven Spielberg's attention was quite a story! Thank you to Mr Cammelle for organising this and to Jeremy for taking time out from rehearsing his '70s cop show' to spend time giving our Drama pupils such invaluable information and advice!"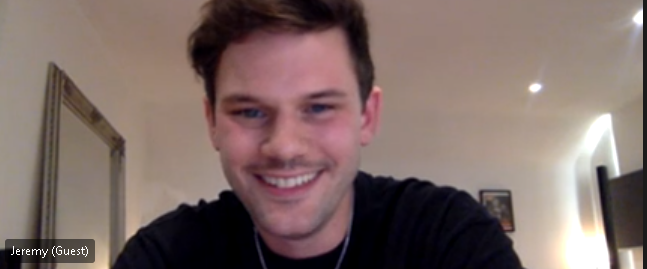 King's Ely's reputation in Arts education is enviable. Music, Performing Arts, Fine Art, Textiles and Photography are each embedded in the culture of the school, with vast opportunities for pupils of all aspirations. Recent accolades include a 5* review for our original production, Ugly Youth, at the 2019 Edinburgh Fringe Festival, our boys a cappella group, the King's Barbers, being crowned National Champions, and the school winning the Art and Craft category at the Education Business Awards.
To discover more about opportunities at King's Ely, please visit: www.kingsely.org