A total of twenty-nine students from Year 4 at King's Ely Junior through to Year 12 at King's Ely Sixth Form sat Trinity College London examinations in Speech and Drama, Performing Text, Musical Theatre and Acting. An impressive twenty-four Distinctions and five Merits were achieved.
Due to the current circumstances, students had to perform their examination pieces to a video camera rather than to an examiner in person, something which Matthew Cammelle, Trinity Speech and Drama Teacher at King's Ely, is delighted did not faze them.
Mr Cammelle said: "We are thrilled with these results! This group of students was my first Trinity College London exam cohort since I started at King's Ely in September 2020. They all did fantastically well and should be as proud of themselves as I am of them."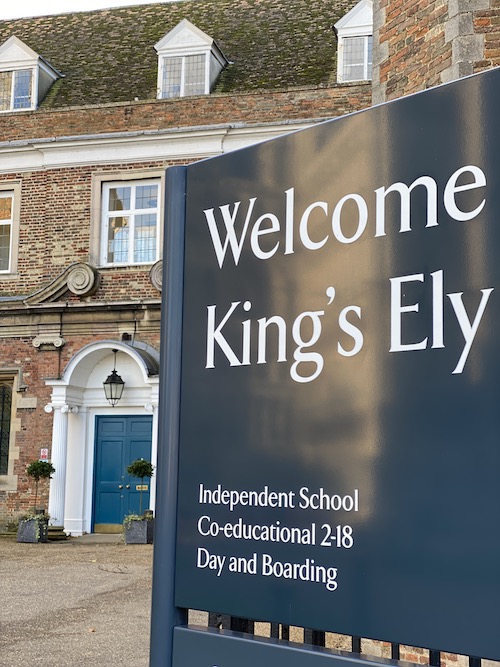 Congratulations to: Erica Bliss, Sienna Burley, Olivia Fuster Ruiz, Thomas Gandy, Arabella Guyer, Kira Hazelwood, Elly Hakansson-Harvey, Libby Hills, William Hutton, George Jobe, Isabell John, David Keene, Cate Kerr, William Kirkup, Lili-Rose Merrifield, Alexander New, Selina Rahman, Catherine Raynes, Harriet Roscoe, Claudia Savory, Georgina Schosland, Chloe Skoulding, Harriet Smith, Evie Staples, Stefanie Theori, Olivia Thomas, Lily Turner, Rose Turner and Olivia Williams.
Trinity College London is a leading international exam board that specialises in the assessment of communicative and performance skills covering Music, Drama, Combined Arts and English Language.
The Arts are huge at King's Ely. Music, Performing Arts, Fine Art, Textiles and Photography are each embedded in the culture of the school, with vast opportunities for pupils of all aspirations. Recent accolades include a 5* review for our original production, Ugly Youth, at the 2019 Edinburgh Fringe Festival, our boys a cappella group, the King's Barbers, being crowned National Champions, and the school winning the Art and Craft category at the Education Business Awards.
To discover more about opportunities at King's Ely, please visit: www.kingsely.org