At Kingham Hill School, a lovely boarding school in the Cotswolds, we decided to hold a mock general election to give the pupils a chance of sharing in the democratic process.
Five Sixth Form politics pupils put themselves forward to represent the following parties: Liberal Democrats, Brexit Party, Plaid Cymru, Labour and the Conservatives. We held hustings attended by the whole school where the five candidates laid out their policies for government.
All pupils and staff were invited to vote in our old Sports Hall, set up to work as a traditional polling station. The Polling Station was open at break time and lunchtime. By the time polls closed at 1300, 65% of the pupils had voted.
The results will be announced in Chapel tomorrow morning, but we thought you might be interested in hearing the outcome should you have time you need to fill at the start of your Election Night coverage.
Liberal Democrats 93
Brexit Party 5
Plaid Cymru 95
Labour 16
Conservative 29
Spoilt ballots 6
Of course, we are incredibly surprised by the outcome. The Plaid Cymru candidate ran a very unassuming campaign and stated his policies calmly at the hustings. It appears, however, that his message was popular among the pupils, who really got behind him on polling day with posters and advertising slogans. Maybe they were keen to vote for something different.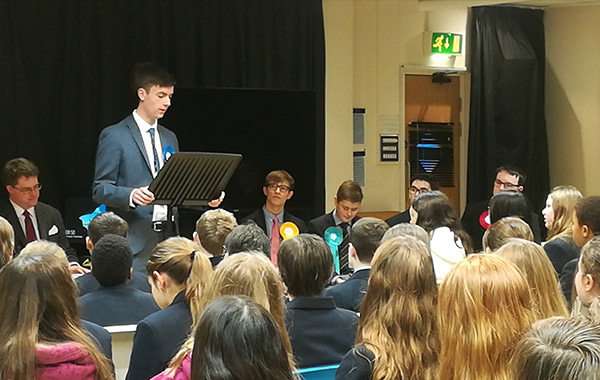 The pupils have been highly engaged by the democratic process: the election has been a hotly discussed issue in boarding houses and common rooms across the School. We look forward to seeing the real results come in this evening.
Gareth Williams – Head of Octagon Academic Society
Kingham Hill School
Kingham Hill School is nestled in the heart of the glorious Cotswold countryside, just 80 minutes from London Paddington, in a stunning 100 acre estate where pupils have a safe place to explore, enjoy and make their home. With just over 340 pupils Kingham Hill remains deliberately small as this allows the school to sustain its caring, home-from-home community where every child is nurtured, challenged and inspired to release their potential. More information on Kingham Hill School can be found online at http://www.kinghamhill.org.uk/